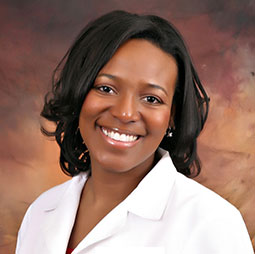 Background
Dr. Samantha Love grew up in Fort Pierce, Florida. After receiving a mild eye injury at age 16, Dr. Love began to explore Optometry as a future career path. She earned her B.S. in Microbiology at Southern University in Baton Rouge, LA. She went on to pursue her dream and obtained a doctor of optometry degree from Illinois College of Optometry in Chicago, IL in 2005. During her academic career, she served as president of the National Optometric Student Association, Residential Complex Ambassador, tutor, teaching assistant, Lions Club Charter member and member of the American Optometric Student Association, College of Optometrist and Vision Development, Private Practice Club, and several others.
In addition to her educational credentials, Dr. Love's professional affiliations include the National Optometric Association (NOA), the American Optometric Association (AOA), the Florida Optometric Association (FOA), and the Central Florida Society of Optometric Physicians (CFSOP). She has served as a internship preceptor for the Health Careers Academy at East Ridge High School and the University of Central Florida Healthcare Management program.
Experience
Dr. Love has had extensive externship experiences which provided her with a plethora of knowledge in practicing full-scope optometry. Her externships emphasized contact lenses, vision therapy, low vision, and post-operative care for lasik and cataracts.
Upon graduating from optometry school in 2005, Dr. Love obtained a license to practice optometry in Florida and Georgia. She began filling in at private and commercial offices in the Atlanta metro area. After 1 ½ years of filling in for various doctors, Dr. Love took over a Wal-mart Vision Center and began building her practice, Bella Vista Family Eyecare. Within a year, her practice quickly grew to two locations in Lithia Springs and Marietta, GA. In 2013, Dr. Love relocated to Florida and purchased a private practice in Clermont, FL on July, 2015.
Philosopy
Dr. Love is a talented, caring, and innovative eyecare professional and the driving force behind the Clermont Family Eyecare. She takes the time to listen and understand her patient's ocular needs and wants. She feels that patient education is very essential to quality eyecare and she spends the extra time to make sure that each patient understands the importance of better eye health.
At Clermont Family Eyecare, the patients have our undivided attention. We never rush a visit. We never "push" a product. Our commitment to the patient goes far beyond the average eye exam into our vision of making your vision of you better. That means exceptional service, style, and medical professionalism—without compromise.
Interests
Dr. Love has an intense desire to serve her community. She currently participates in several community vision screenings, food drives, and church activities. Outside of the clinic, she enjoys spending quality time with family, traveling, and scrapbooking.